The full range of Bowater composite doors is now available from Future Trade Counter.

Colour
The colour of your front door says a lot about your home and sets the tone for the style within so think carefully about this important decision.
Bowater Composite Doors are available in a wide choice of colours and wood grain effects;
Red,
Blue,
Green,
Black,
White,
Golden Oak and
Rosewood.
On selected styles, the Golden Oak and Rosewood woodgrain effect UPVC doors are available with the colour on both sides, in place of the standard white interior finish.
Glass
Personalise your Bowater Composite Door with your choice from our huge range of glass designs. Choosing the right glass design is as important as the colour, to ensure you create a new front door that really has the wow factor and complements your home perfectly.

Each door style is available with a range of traditional or contemporary glass designs, some with triple glazing for further enhanced thermal performance. Please be aware that the range shown on the website and in our brochure is just a small selection - Future Trade Counter can source any style or pattern of glass that you may be interested in for your new front door. Why not try our bespoke glass design service?
Door furniture
You can also choose from a wide range of door furniture to add further individuality to your Bowater front door as well as function.
Letterboxes, door knockers (with and without spyholes) and a choice of handles are all available in a range of different coloured finishes - choose from Gold, Chrome or Black to complement your chosen door and add extra character.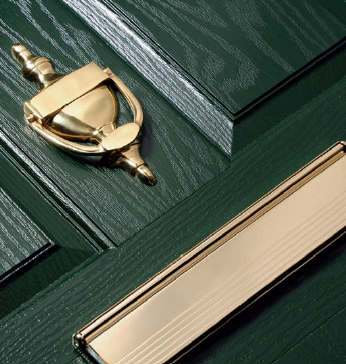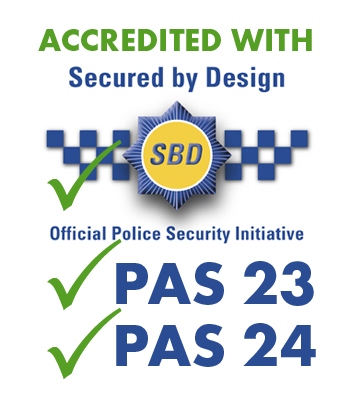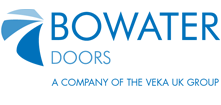 Why choose a composite door? -
It's a question many of our customers ask us and the simple answer is that a Bowater Composite Door offers masses of benefits that you just don't get with a traditional timber door, including:

No hassle maintenance -
Traditional timber doors may look great when they're freshly painted or varnished, but the thing is, to keep their good looks, they need refinishing every year on average. With a Bowater composite door, there's none of that hassle! They look just as good (some would argue better!) and there's no need to ever sand down and paint or varnish. Your Bowater Composite Door only needs the occasional wipe over with a damp cloth to keep it looking as good as the day it was installed.

Wind and weather proof -
When you choose a Bowater Composite door, you can be confident it's weatherproof. It's not going to swell in winter and shrink in summer like a timber door, it's not going to warp, twist or split – it's just going to stay doing the great job it's meant to, whatever the weather. What's more because all Bowater Doors come fully framed with triple seals, you've no worries about nasty draughts.

Super efficient -
You'd be amazed how much energy is lost through badly fitted front doors. That's why every Bowater Composite Door in our range has a super-efficient insulating inner core and comes with a thermally efficient threshold.
All Bowater Composite Doors meet current Building Regulations by achieving a U value of 1.6 or less. A U value is the measurement of heat transfer through a given building material, so basically it's a reference as to how energy efficient your new door will be. Ask your local installer for more details.

Totally secure -
As well as keeping out the elements and street and traffic noise, all products in the Bowater Composite Door Range are designed to keep out intruders. Highly robust and highly efficient, they are equipped with Saracen Secure Hardware, including a tried and trusted mortise lock linked to a superior hook bolt system.
A door for the future -
Open a Bowater Composite Door and you're looking at the future of all doors. After all, why would anyone choose anything but this high-tech, high performance, highly attractive product above anything else?
Sure, a timber front door looks the business when it's brand new, but give it a year or so of the good old British weather and it will need sanding, undercoating and painting or varnishing again. And, apart from that regular, joyous, chore, it's also very likely to crack or warp, letting in drafts, water and even insects or rodents looking for shelter. What's more, timber doors tend to have simple, old-fashioned locking mechanisms that offer little resistance to even the most haphazard burglars.
Or how about good old PVC with all its low maintenance properties? Well, the problem with PVC doors is that, well they look like what they are and, frankly, they're a bit bland and soulless for many people's tastes. Also, many discolour or yellow with age, so end up looking tired and dated.